---

2021 March Labour Day - Weekend Tournament.
2021 tournament brochure and entry forms
Download a pdf 2021 tournament entry form from this link....
Full tournament brochure can be downloaded from: here and here
Download an Excel 2021 tournament entry form from this link....
Payment can be made at the office on the Labour Day Weekend or online to::
BSB: 633000. Account Number: 53058467
Please put an identifying name when you make your payment online.
---
Accommodation in Donald
Donald Hotel

126 Woods Street Donald
Phone: (03) 54 971410
Email: donald.hotel@bigpond.com
13 Rooms at ground level, shared facilities.
Bullock's Head Tavern

Woods Street Donald
Phone: (03) 5497 1371
Email: info@bullockshead.com
Choose from family, double, twin or single rooms with baby cots available. All with reverse cycle air-conditioning, tea and coffee facilities. Mini bar, movies and Wi Fi.
All room bookings include continental breakfast unit 9.00 am.
Donald Motor-Lodge


Donald Motor Inn is situated in the heart of the town centre. The motel is in easy walking distance to river walks and to hotels and restaurants. Facilities include courtyard, BBQ and pergola area, Residential Liquor License, guest laundry, and childrens playground. There are 12 modern units, all non smoking and 1 disability accessible unit. Rooms are spacious and include 4 x 2 bedroom family rooms. Room amenities offered are reverse cycle air conditioning, electric blankets, queen size beds, refrigerator, mini bar, tea/coffee making facilities, radio alarm clock, D/D phone, microwave and new flat screen TV's.

Riverside Motel
7 units with balconies overlooking the river. All non smoking rooms, continental breakfast available, Wi Fi, Mini Bar, Largest room can accommodate up to 4 people. Central Heating & Cooling, Hairdryer, Iron, Electric Blankets, Refrigerator, Tea & Coffee Facilities, Toaster, Clock Radio, Phone, Television, Mini Bar, Free WiFi.


Bullock's Head Apartments


Located in Donald's original Power Station the converted warehouse apartments have been tastefully furnished and are fully self contained with all modern amenities.

This unique accommodation is situated in the centre of town one block from the main street and overlooks Donald's famous Bullocks Head situated on the Richardson River.
Open plan kitchen/living area. Well appointed kitchen. Reverse cycle split system air conditioning. Separate laundry with washing machine and iron.
Master bedroom with queen size bed. Mezzanine loft with double bed in apartment 1 and two single beds in apartment 2 All Linen supplied.



Donald Caravan Park

2 Corack Road Donald
Phone: (03) 5497 1764

Email:
At present (March 2016) there are no bookings are done ona first come first served basis. Approximately 30 sites are available. Powered sites are $20 and unpowered are $15 per night. An honesty box is at the Park.
Where are we? From the main street : take the Charlton-Swan Hill turnoff we are on the Borung Highway - opposite the Sports Oval
---
Donald Lawn Tennis Club Shirts
Available for $50 (until stocks run out). Available in two colours - Flourscent Green and Dark Green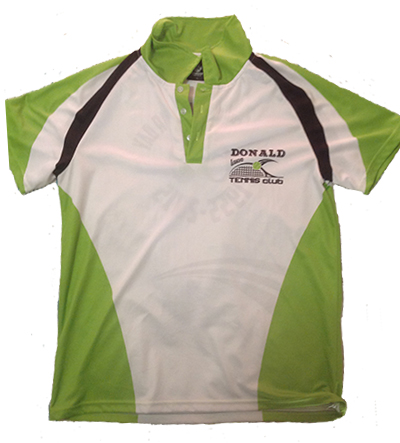 ---
2021 Major Sponsor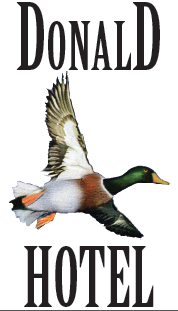 ---
2021 Other sponsors

---
The full results for the 2020 Labour Day Weekend tournament were:
SINGLES

Men's Open Singles: Dylan Emerson. R/U: Derek Hollis.
Men's Singles A-Grade: Darren Flaherty. R/U: Jordan Friberg.
Men's Singles B-Grade: Jason Vochala. R/U: Zachary Smith.
Men's Singles C-Grade: Jacob Bath. R/U: Blair May.
Men's Singles D-Grade: Brayden Smith. R/U: Toby Hardingham.
Boys Singles 13 and under: Kai Brawn. R/U: Jack Reilly.

Women's Singles Open: Lauren Yarrow. R/U: Catherine Grant.
Women's Singles D-Grade: Karen Shaw. R/U: Meaghan King.
Girls Singles 13 and under: Macie Mortlock. R/U: Laila Reilly.
Veterans' Doubles: Don Gravino R/U: Sue Gravino.

DOUBLES

Men's Open Doubles: Troy Wright, Derek Hollis. R/U: Jeff Friberg, Steve Hardingham.
Men's Doubles A Grade: Mark Wright, Rata Sacpraseuth. R/U: Zachary Smith, Daniel Reitter.
Mens Doubles C-Grade: Sam Griffiths, Blair May. R/U: Stuart Potter, Rob O'Shannessy.
Boys Doubles 16 and under: Toby Hardingham, Cooper Russell. R/U: Brady Griffiths, Jacob Donnellon.
Boys Doubles 13 and under: Chase Campell, Cameron Belleville. R/U: Jack Reilly, Oliver Spinks.
Women's Doubles Open: Elizabeth Smith, Jacque Sacpraseuth. R/U: Catherine Grant, Deanne Kirkpatrick.
Women's Doubles B-Grade: Jordan Rowan, Amber Hollis. R/U: Kate Reilly, Dee Ferrier.
Womens Doubles C-Grade: Rosemary Keppel, Linda James. R/U: Kellie Griffiths, Jenny Mortlock.
Womens Doubles D-Grade: Meaghan King, Susan Kamau R/U: Karen Shaw, Jessica Blanchfield.
Girls Doubles 13 and under:Macie Mortlock, Arli Geddes R/U: Laila Reilly, Lucy Spinks.

MIXED

Mixed Doubles A Grade Special: Troy Wright, Jacque Sacpraseuth R/U: Jeff Friberg, Kate-Lyn Perkins
Mixed Doubles A Grasde: Zachary Smith, Kathryn Reiter R/U: Rata Sacpraseuth, Catherine Grant
Mixed Doubles B-Grade. Jason Vochala, Cherie Reilly R/U: Jordan Rowan, Dawson Hollis
Mixed Doubles C-Grade. Sam Griffiths, Keiarah Brooks R/U:Kerry Georgiou, Vicki Georgiou
Mixed Doubles D-Grade. Brayden Smith, Jessica Blanchfield R/U: Beau Griffiths, Kelsea Nisbet
Mixed Doubles 13 and under: Laila Reilly, Mitch Godkin. R/U: Lainey Mortlock, Chase Campbell
Winner of the TV raffle: Corey Donnellon

Winner of the Raffle: John Fracchio


Congratulations to all the winners and runners up. The Club hopes to see you all in 2021 as well as all our other 2020 entrants.
---
2019 results
SINGLES

Men's Open Singles: –Travis Nagantherin. R/U: Derek Hollis
Men's Singles A-Grade: Alan Greaves. R/U: Chris Belcher
Men's Singles B-Grade: Caolon Somers. R/U: Jacob Werts
Men's Singles C-Grade: Cameron O'Shannessy. R/U: Blair May
Boys Singles 13 and under: Braxton Hollis. R/U: Brayden Smith

Women's Singles Open: Jennifer Day. R/U: Emily Reitter (on countback from Catherine Grant)
Women's Singles A-Grade: Annelka Chang. R/U: Amber Hollis
Women's Singles C-Grade: Keiarah Brooks. R/U: Sheridan Johns
Women's Singles D-Grade: Kate Farlow. R/U: Claudia Griffiths
Girls Singles 13 and under: Johanna Griffiths. R/U: Macie Mortlock
Veterans' Doubles: Troy Wright, Paul Rowan; RU: Mark Wright, Daniel Reitter

DOUBLES

Men's Open Doubles: Derek Hollis, Troy Wright. R/U: Scott Wright, Callum Goode
Men's Doubles A Grade Mark Mortlock, Ryan Weir R/U: Darren Flaherty, Paul Rowan
Mens Doubles C-Grade: Jacob Werts, Caleb Powell R/U: Ian McKern, Lucas McKern
Boys Doubles 16 and under: Dawson Hollis, Braxton Hollis. R/U: Toby Hardingam, Cooper Russell
Boys Doubles 13 and under: Jacob Donnellon, Brady Griffiths. R/U: Jack Reilly, Oliver Spinks
Women's Doubles Open: Katelyn Perkin, Ange Nitschice. R/U: Elizabeth Smith, Jacque Sacpraseuth
Women's Doubles A-Grade: Kathryn Reitter, Emily Reitter; R/U: Catherine Grant, Jordan Rowan
Women's Doubles B-Grade: Noeleen Mazza, Sue Gravina; R/U: Lauren Price, Rosemary Keppel
Womens Doubles C-Grade: Kiearah Brooks, Loretta Brooks, R/U: Laura Nichol, Laura Martin (on countback from Emma Downes and Isabella Griffiths)
Womens Doubles D-Grade: Cheyenne Parsons, Alida McKern, R/U: Judy Chapman, Kiahn Chapman
Girls Doubles 13 and under: Arli Geddes, Macie Mortlock , R/U: Johanna Griffiths, Laney Mortlock

MIXED

Mixed Doubles A Grade Special: Troy Wright, Jacque Sacprasueth R/U: Brendan Nitsche, Belinda Hately
Mixed Doubles A Grade: Daniel Reitter, Katherine Reitter R/U: Derek Hollis, Amber Hollis
Mixed Doubles C-Grade. Rhyse Mazza, Cassandra Mazza. R/U: Andrew D'Sousa, Laura Martin
Mixed 13 and under: Jack Reilly, Layla Reilly. RU: Brayden Smith, Georgia Sacpraseuth

Winner of the Raffle: Addison Funcke
Second: Andrew D'Sousa
Third: Caleb Powell
Fourth: Bianca Paul
Fifth: Daniel Pearce

---
2018 results
SINGLES

Men's Open Singles – Rhyse Mazzas. R/U: Toby Wilson
Men's Singles B-Grade: Jason Farlow. R/U: Mark Mortlock
Men's Singles C-Grade: Don Ciranuia. R/U: Stuart Potter
Boys Singles U/16: Hiruth Welgamar. R/U: Dawson Hollis

Women's Singles B-Grade: Amber Hollis. R/U: Cassandra Mazza
Women's Singles C-Grade: Amber Hollis. R/U: Emma Downes
Girls Singles U/16: Jordan Rowan. R/U: Kiara Berry

DOUBLES

Men's Open Doubles: Troy Wright, Derek Hollis. R/U: Brad Annear, NiK Olynik
Men's Doubles A Grade :Linden Goodman, Toby Wilson. R/U:Mark Mortlock, Ryan Weir
Mens Doubles B-Grade: Brett Smith, Rata Sacpraseuth R/U:Trevor Brennan, Heath Broughton
Mens Doubles C-Grade: Justin Trollop, Matt LivingstonR/U: Don Gravina / Paul Brooks
Boys Doubles U/16: Dawson Hollis, Braxton Hollis. R/U: Toby Hardingham, Finlay Lockhart
Women's Doubles Open: Jennie Day, Kate-Lynn Perkins. R/U: Catherine Grant, Deanne Kirkpatrick
Womens Doubles C-Grade: Noeleen Mazza, Sue Davina, R/U: Loretta Brooks, Keiarah Brooks

MIXED

Mixed Doubles A Grade Special – Troy Wright, Jacque Sacpraseuth. R/U: Travis Nagapathin
Mixed Doubles A Grade: Rata Sacprasueth, Catherine Grant. R/U:Toby Wilson, Tracey Graham
Mixed Doubles B-Grade: Paul Rowan, Noeleen Mazza. R/U: Michael Cannington, Cherie Reilly
Mixed Doubles C-Grade:Hiruth Weigama, Tharuishi Weigama. R/U: Dave McMaster, Julie Bond